Current PhD Students
Tao Zhang (co-supervised with Prof. Peter Caines)
Samin Nili-Ahmadabadi
Amit Sinha
Borna Sayedana (co-supervised with Prof. Peter Caines)
Raihan Seraj (co-supervised with Prof. Jerome Le Ny)
Current Master's Students
Edwin Meriaux
Reihaneh Ghoroghchian (co-supervised with Peter Caines)
Berk Bozkurt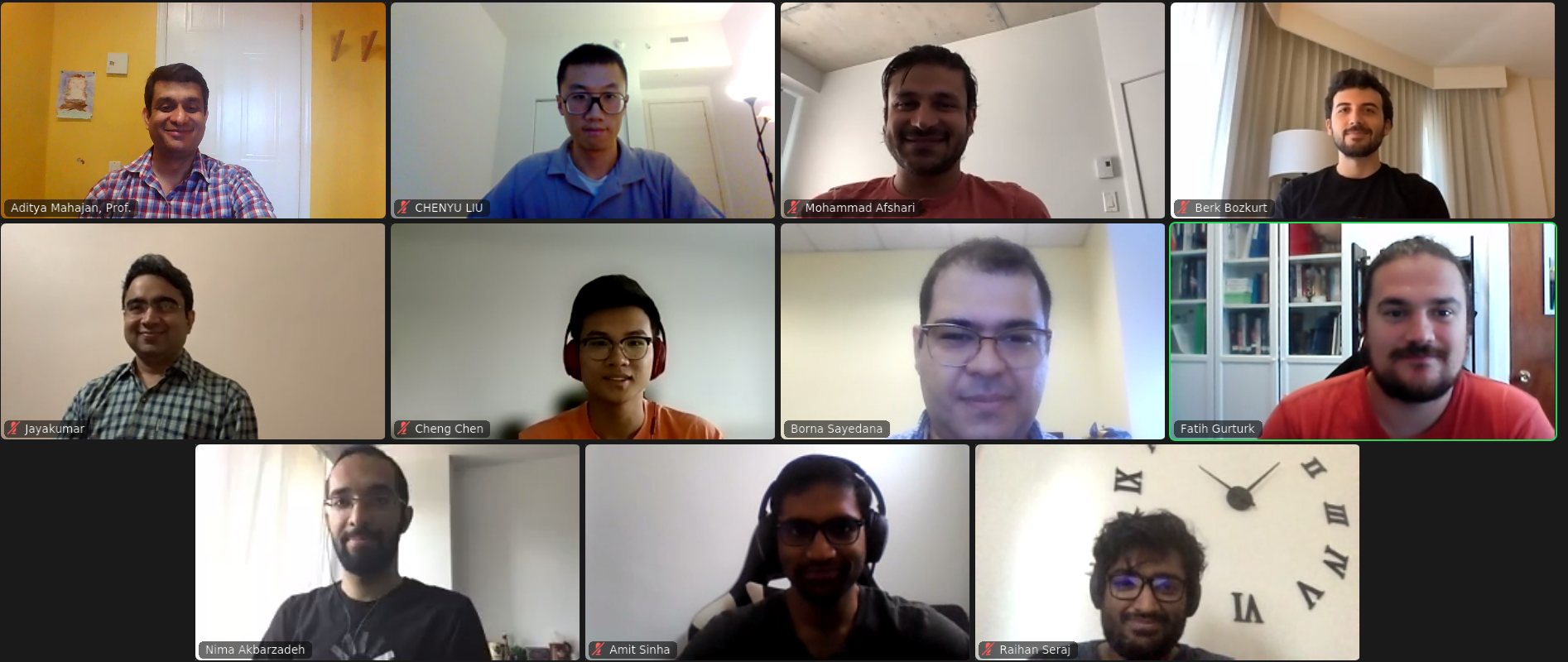 Group photo (2021). Top Row (L to R): Aditya, Chenyu, Mohammad, Berk. Middle Row: Jayakumar, Cheng, Borna, Fatih. Bottom Row: Nima, Amit, Raihan.

Group photo (2017). From L to R: Borna, Nima, Jhelum, Raihan, Aditya, Jayakumar, Mohammad.
Graduated PhD Students
Nima Akbarzadeh, Aug 2022. Restless multi-armed bandits: Indexability, Whittle Index Computation, and Learning.
Mohammad Afshari, March 2021. Team optimal decentralized estimation and control of networked linear quadratic systems.
Jayakumar Subramanian, April 2020. Reinforcement learning in partially observed and multi-agent systems.
Jhelum Chakravorty, Aug 2017. Fundamental limits of remote estimation.
Jalal Arabneydi, Dec 2016. New Concepts in Team Theory: Mean Field Teams and Reinforcement Learning.
Chuangshen Dong (co-supervised with Prof. Haibo Zeng), Apr 2016. Greener Cyber Physical Systems---Data Analysis and Algorithm Design.
Graduated Master's Students
Erfan SeyedSalehi, Apr 2023. Approximate information state for model based recurrent Q-learning.
Sharareh Younesian (co-supervised with Prof. Peter Caines), Dec 2022. Structure-aware reinforcement learning for searching optimal monotone policies.
Chenyu Liu, June 2022. Optimism in $Q$-learning: Unified overview and comparison.
Alper Öker (co-supervised with Prof. Peter Caines), April 2021. Distributed Kalman Filtering and Estimation.
Anirudha Jitani (co-supervised with Prof. Doina Precup), April 2021. Intelligent node-overload protection in mobile edge computing using reinforcement learning.
Amit Sinha, Dec 2020. Reinforcement learning in POMDPs.
Samin Yeasar Arnob, May 2020. Improving Robustness in Inverse Reinforcement Learning.
Borna Sayedana, Aug 2019. Monotonicity of value function and optimal policy in cross-layer design of communication systems.
Raihan Seraj, April 2019. Learning in the presence of partial observability and concept drifts.
Romina Hassani (co-supervised with Prof. Peter Caines), Dec 2018. Social learning and distributed hypothesis testing.
Sebin Mathew, Aug 2018. Dual decomposition algorithms for sensor scheduling.
Ming Lei (co-supervised with Prof. François Bouffard), Aug 2017. Optimal policies for energy storage in microgrids.
Aide Zhou, Apr 2017. Monte Carlo simulations for remote state estimation.
Calvin Ma (co-supervised with Prof. Brett Meyer), Aug 2016. Multi-armed bandits for MPSoC design space exploration.
Can Cui, Aug 2015. On computing optimal thresholds for sequential hypothesis testing.
Mehnaz Mannan, Apr 2015. Finite-state approximation for a class of POMDPs and comparison of reinforcement learning algorithms for managing energy storage in renewable generation.
Prokopis Prokopiou (co-supervised with Prof. Peter Caines), Aug 2014. An estimation based allocation rule with super-linear regret and finite lock-on time for dependent multi-armed bandits.