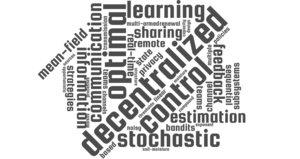 Journal Publications
Preprints
Journal and Selective Conference Publications
Book Chapters
Multi-armed bandits, Gittins index, and its calculation (pdf)
Jhelum Chakravorty, and Aditya Mahajan
Methods and Applications of Statistics in Clinical Trials, Volume 2: Planning, Analysis, and Inferential Methods, pp. 416-435, John Wiley & Sons, 2014.
DOI: 10.1002/9781118596333.ch24.
The common-information approach to decentralized stochastic control (pdf)
Ashutosh Nayyar, Aditya Mahajan, and Demosthenis Teneketzis
Information and Control in Networks, pp. 123-156, Springer-Verlag, 2014.
DOI: 10.1007/978-3-319-02150-8_4.
Multi-armed bandit problems (pdf)
Aditya Mahajan, and Demosthenis Teneketzis
Foundations and Applications of Sensor Management, pp. 121-151, Springer-Verlag, 2008.
DOI: 10.1007/978-0-387-49819-5_6.
Thesis
Sequential decomposition of sequential teams: applications to real-time communication and networked control systems (pdf)
Aditya Mahajan
University of Michigan, September 2008. Supervised by Demos Teneketzis.
Unpublished drafts
Disclaimer
This material is presented to ensure timely dissemination of scholarly and technical work. Copyright and all rights therein are retained by authors or by other copyright holders. All person copying this information are expected to adhere to the terms and constraints invoked by each author's copyright. In most cases, these works may not be reposted without the explicit permission of the copyright holder.